Let's start a feature. Squirrel favorites will be reviews of/blabbering about books I've read, reread and most probably will be reading again and again – my favorites. Currently, I think it could come out every other week.
Therefore, it's time to gush about my most recent favorite that is also the freshest printed book I have (I've 'bought' a bunch of freebies on Amazon, so theoretically those are the newest books I have, but the aren't printed, so… :D). It is The Daughter of Smoke and Bone by Laini Taylor. I found it while browsing Goodreads as a recommendation for one of my Goodreads shelves, I think.Then it was a bit before Christmas and my Sister asked me, what [book] would I want – the last 2 or 3 years we've been giving each other books on Christmas. So, I just looked through the books in English my favorite (I don't really have a favorite one, it's just one of the few that has books in English) bookstore has to offer, and, surprise, there it was, The Daughter of Smoke and Bone. So I gave it to Sis as an option (in addition to the fifth A Song of Ice and Fire book – haven't read that one yet). Then, of course, Christmas came and it was time to read. I spent Christmas with my BF's family and, while everyone was getting ready and other family members were arriving, I was sitting in a corner reading 😀
W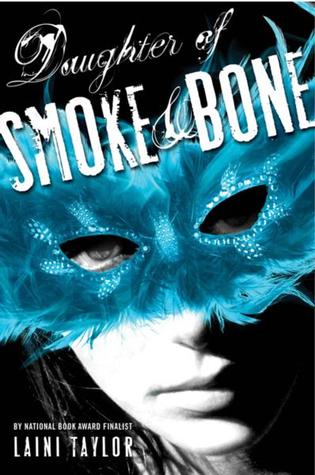 hat attracted me to the book in the first place was its cover. See? It's so colorful, even though it has just one striking color, but that's all it takes. Especially because it fits the description of the book. At least in a way (blue hair, ftw).

And if that cover is not enough, here, read this!
Around the world, black handprints are appearing on doorways, scorched there by winged strangers who have crept through a slit in the sky.

In a dark and dusty shop, a devil's supply of human teeth grows dangerously low.

And in the tangled lanes of Prague, a young art student is about to be caught up in a brutal otherwordly war.

Meet Karou. She fills her sketchbooks with monsters that may or may not be real, she's prone to disappearing on mysterious "errands", she speaks many languages – not all of them human – and her bright blue hair actually grows out of her head that color. Who is she? That is the question that haunts her, and she's about to find out.

When beautiful, haunted Akiva fixes fiery eyes on her in an alley in Marrakesh, the result is blood and starlight, secrets unveiled, and a star-crossed love whose roots drink deep of a violent past. But will Karou live to regret learning the truth about herself?
The blue hair and the part about "a devil's supply of human teeth" got me. And the main character's name – Karou. I like it, and that's it. But what the description doesn't explicitly say is that the book is about angels and devils. Which kind of threw me off when I started to read. But then it didn't. Because it's only 'kind of' about angels and devils. Or, not 'kind of, but in a broader, more general sense about them. Because the devils aren't really devils. And the angels, well, they sorta are angels, but they also are not. It's not about devils and angels in the traditional sense. No actual religion involved here or anything.
When first reading the book, it reminded me of Fallen by Lauren Kate at some moments – the angels and the hero with secrets and all. But when I reread the book a week ago, I didn't really see that many similarities anymore (except, of course, for the angels, but even those are different). Anyhow, the similarities, however big or small, don't change the fact that I like The Daugther of Smoke and Bone a lot better than Fallen. With 'Daughter', I wanted the next book right after I finished it (it's  first in a trilogy, all three books are published, so no unnecessary teasing and waiting and dying to know what happens next), with Fallen, I don't remember feeling the need to jump into the next book to know what happens later.
In this book, you actually root for the devils (at least I did), who are actually chimaera and are called devils by their enemies, the seraphim (who are sometimes referred to as angels). I guess they might as well have been two different races or nations, or followers of different religions, the devils/angels thing is there more as a general idea than real reference to angels and devils.
Okay, moving on (I think I'm rambling more than saying something substantial :D).
The story, the plot, the characters. Everything goes together so nicely in the end. The teeth, the wishes, the hair, Madrigal. Everything is revealed both through bits and pieces like breadcrumbs and through openly stating it's this or that. But only when all the breadcrumbs are there and the big facts are laid out, that's when everything really comes together (especially after rereading the book). For example, about the teeth. I can't even explain 😀 They are mentioned there so often and described in quite a detail, but for a very long time, you have no idea WHY are needed and WHAT the heck does Brimstone do with them, but it's obvious they are important. And then comes the breadcrumb trail, that leads to moments of 'oh, so that's how…' and then later 'and so then…', and when it all comes together, it's just 'Oh, wow'. The book has a lot of little nice details that make the characters and the world more alive, real. Like, the blue hair thing. It is stated, that Karou has blue hair, she doesn't dye them. Later you get to know how it comes, that she has blue hair without dyeing them. And then, closer to the end of the book, there is this tiny moment that kind of says why is her hair blue and it just sweeps you off your feet (it sure did me, I loved that little detail). I think that moment almost made me cry, it was such a nice 'connect the dots' thing.
But there was a moment where I actually got teary eyed. So this book has a bawl-your-eyes-out factor, too.
For the gamers here – this book has Cassio from League of Legends. Except that Issa's not Cassiopeia and she has a totally different story, but the appearance is similar, I mean, when I first read about Issa, Cassio was what first came to my mind. And this book really demands some imagination, if you visualize what you're reading, because the chimaera  really are something. For example, Brimstone, who has a man's arms and torso, a lion's legs, a ram's head with horns and reptilian eyes, oh, and his skin is more like hide than skin. Or Madrigal, who is human with a gazelle's horns, bat's wings and a gazelle's legs (I think) below the knee (for some reason, I just thought of Maleficent). This could probably be especially fun for those who draw/paint etc.
(Note to myself:) I probably should create a review template for myself, otherwise I feel like I'm telling a lot about something and forget about something else. And I don't even know what more to say. I just really loved this book and I'd like for others to enjoy and love it, too.
Oh, right, there are some real fun lines/ideas/advice there, too. I especially loved Brimstones thoughts on doing things to yourself:
'I don't know many rules to live by,' he'd said. 'But here's one. It's simple. Don't put anything unnecessary into yourself. No poisons or chemicals, no fumes or smoke or alcohol, no sharp objects, no inessential needles–drug or tattoo–and…no inessential penises either.'
Or some lines that could get you into a thinking mood:
Have you ever asked yourself, do monsters make war, or does war make monsters?
and
Peace is more than the absence of war. Peace is accord. Harmony.
Or some more laugh-out-loud silliness:
Oh, Hell. Must. Mate. Immediately.
That all together makes one (great) hell of a read. It was well-paced, I didn't want to put it down (who cares about Christmas and guests and what not, I had a book to read – though I did not spend the whole Christmas reading, but I would've loved to). I laughed (a lot) and cried (a bit),
and was most definitely entertained. I first gave the book 4 stars on Goodreads, but after rereading it and thinking everything over, 4 stars was not enough, therefore now it receives 5 nuts.
What did you think of the book, if you've read? If you haven't, read it! Or ask me something more about it so I can try to persuade you to read it 😉
P.S. I had a different edition of the book, that is, I didn't get the blue-feathered cover. I got this one. But it still fits the book very well. Actually, this cover might even say more about the book (its plot) than the other cover, since this one shows doors and a hand-print beside them, and the book/pages on the ground could be Karou's drawing portfolio. Lots of details there then 😀