I wasn't planning on making a Daily Prompt post. Although I have done one, I feel like they don't belong on my blog, since, theoretically, I want its focus to be books. But today's (Monday's) Blogging101 task is to make a Daily Prompt personal, to make it mine and fit my blog. So I took a moment to think how could I make the prompt 'A House Divided' about books, but not make it just a talk about books in general, since I could have gone with the offered two-sides discussion of something book-related (let's say printed books vs. e-books or whatever), but that didn't feel right. So I started to think about books that have a theme of two opposing opinions or, well, pretty much literally a house divided. Some of the candidates were Jeaniene Frost's novella Home for the Holidays, Partials by Dan Wells and Sense and Sensibility by Jane Austen. To me, they each fit the prompt/topic, but then it occurred to me there is a book that fits it even better than any of the ones mentioned.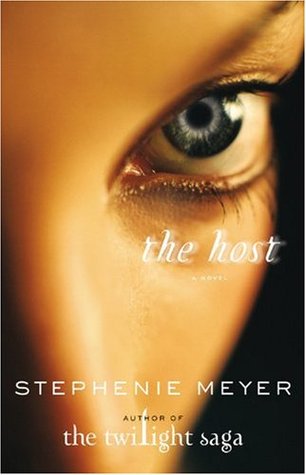 And that's The Host by Stephenie Meyer.
The Host is one of my favorite books. I was actually planning to feature it on Squirrel Favorites next week, but, as it seemed to fit the prompt so well, I'll talk about it here and now.
I think a lot of people pass this book off without even trying it because of its author and said author's other works. (Oh, the Twilight hate.) But, please, people, don't do that, there is no need to judge a book by its author, not all one author's books are the same. And, by the way, in this case, don't judge the book by its movie either. The movie didn't tell the story particularly well. Therefore, give this book a chance if you can!
Okay, done with the introduction. On to the reviewing and all.
First up, the book and the prompt 'A House Divided'.
If you know about the book, then the reason why The Host seemed to fit the topic is probably obvious to you. If it isn't or, if you're not familiar with the book, here we go with a quick overview of the main facts 😀
Okay, so Earth is invaded by aliens, and the aliens look kind of like centipedes and overtake humans by being put into the back of people's necks. One centipede per human. Typically the person's consciousness is erased when an alien is put into a human. Enter Wanda – an alien who's just been inserted into a human body, but the body's owner, Melanie, is not fading away. There we go, two entities/personalities/people in one body. Two quite different personalities, since they are of different species, therefore different outlook on life etc., and only one of them – Wanda, the alien – is in control of the body. So, you see, a house divided:
Body my house
my horse my hound
what will I do
when you are fallen
These are just the first four lines from the poem Question by May Swenson. This poem is the epigraph of The Host. And it fits both the book and the prompt very well. And I really like that poem. Goes so well with the book, but that's no surprise. Why else would it be there?
And now that some of the reasoning behind my choice is out of the way, it's finally time for the actual reviewing part. (As you'll see, I've come up with a possible review layout, will see how it works out.)
The Good
The story. To me it seemed quite unusual and special. I hadn't read anything like it when I first read The Host and I still haven't.
The 'thinking value'. The Host makes you think.  If you strip it down to the basics, the book is mainly about prejudices and hate against the unknown, the different. It can also makes you think about humanity in general – how we treat our world and each other (not that there aren't enough things that make you think about it, but here it is wrapped in a nice package, I think). And there's love and friendship, and how different they can be and so on and so forth. I think more thinkable topics can be found if one looks for them.
The characters. I really loved Wanda, and Melanie, too. And the movie totally does not do justice to either of them. And then there's Jeb, the 'old crazy', who's not so crazy after all. And Ian, oh, Ian. Who needs Jared? Not that Jared's bad or anything, but I'm more team Wanda&Ian 😀 And I love how the story ends for Kyle. It's so hilarious and pretty sweet, as well.
And by no means were those the only good things about The Host, those just seemed the more prominent ones. There also was some humor, which is always nice. There were some tears for me, which is also kind of a plus, in a way (not that a book needs cry-worthy moments to be good, but quite often I end up loving the books that made me cry).
The Bad
There is no sequel! It's not that a sequel is necessary, but it would be nice. And at some point I think there was some talk about The Host being a series, but I've never really seen anything more about it, especially lately. Oh well, there's still fan fiction 😀
Hmm, well, maybe you could say that the beginning is quite slow, so some could find that as a minus.
I don't there really is anything bad I could say about The Host. At least noting comes to my mind. Maybe you've got some more downsides for it? 🙂
Squirrel
Main conclusion – I really like this book, I love it. It's one of the books I can read again and again
and still cry at certain moments. 5 nuts from Squirrel. It is definitely worth the read, forget about your Twilight hate or bad experience with the movie – The Host as a book is great and does not really compare to Twilight.
If you have anything to add or a different opinion to offer, don't be afraid to speak up 🙂
Oh, right. here are other bloggers' takes on A House Divided.